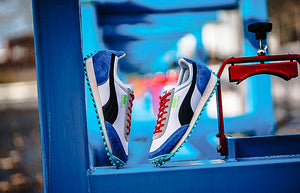 Puma Fast Rider Ride On Blue
Puma Fast Rider Ride On Blue
 is the silhouette of a sneaker that broke the mould of typical runners shoes that boasted super light design back in the 1980s. The aggressive looks and the shock-absorbing outsole was a game-changer at that time! Finally today we are getting a glorious come back of the original profile and the colourway of it as well. To know more about this OG classic retro Puma shoe, have a seat and continue reading below.
Painted in a Blue, White, Red, Black, Volt and Aqua colour combination is the brand new Puma Fast Rider! The design of this sneaker is almost identical to the OG model, and the top features a Nylon construction. Furthermore, the extra added comfort and innovation comes from the butter smooth suede and leather reinforcements that give the sneaker a sense of stability. Moreover, down below the sneaker, we have the outsole that features shock-absorbing Puma Federbein that offers extra comfort and cushioning! Completing the design of this brand new Puma Fast Rider is the original colour scheme throughout its body that pays homage to the OG Puma Fast Rider!
We regularly post daily news about sneakers. Always keep tabs on our social pages. When you do that, you won't miss out on any further news about this crep from Puma. In order to do that you should make time and follow us @magicsneakerstores. This will help both you and us! Make sure also to let us know how you like the Puma Fast Rider. There is a whole bunch of different other creps out there like this shoe. We are always trying to give our best to provide you with the latest and get you those new juicy sneaker updates you crave for. As a result, you won't be the one that misses out!
Puma Fast Rider Ride On Blue is going to be one of the most versatile sneakers that you pick up. Also, the lightweight construction and the vibrant looks of the sneaker are things that are hard to pass up! If you are still looking for something rather unique to rock for this harsh weather, then look no more, this new PUMA product is perfect for you! Hence, you should make haste and grab a pair to put in your daily kicks collection. Do make sure to pick one up as they go live on 30th November via listed UK and European retailers.
---